Blimey it seems like ages since I posted on here, Prob well over a month now... I've wanted to write one but with my writing skills it really takes me a long time to get things right. I'm working on it but please bear with me, I'll get my ass into gear.
So it's not all doom and gloom, I have actually been doing some work, I have... honest, since Cardiff I've been slowly planning out Honeydew and Magic, although I'll have to put this back cause with work going down the pot-hole I won't have the cash to print it so will have to be later on in the year when I get myself a new job, but I have been doodling some of the characters just to get a feel of the type of clothes to wear and other bits and bobs.
So I did a little doodle of Goji, I can't resist to do some sort of action shot of him, he's really bendy and fun to draw, I was thinking of colouring him in but I've can only do photoshop in short stages before I get really tired, I've been working on a couple of different projects on Photohop so It's just nice to get down with some pencils and draw.
Oh one thing I forgot to mention on this, was in the back of Herald Owlett Version 2.0, I did a little advert for Honeydew and Magic, Here at least you get to see all of the main hero characters in the story, I've changed the colours and looks of them slightly like I said... pretty chuffed with the colours in the poster so here is hoping that the comic can stay the same too.
Also been doodling some ideas for prints too, I've sold out of the Adventure time print I had so I am planning doing another one hopefully for MCM, but this time it having a few more characters in it, they are quite fun to draw and I also want to put Hot dog Princess in as well (she is my favourite princess), but here is my Marcelline in some duds I made up ( I didn't have a reference at the time so she is a little off)
It's also been a long time since I've done a collage, I really do enjoy doing them but with the situation at the moment I don't have the space for all the ingredients to make them, I don't have half of my textured card or spray paint, but I thought what the heck I'll give it ago. I recently came across some of
Brittney Lee's
work and was inspired to do some, I would love to try and do something on the same level as that, so here is a little process of one I'm doing at the mo of Herald.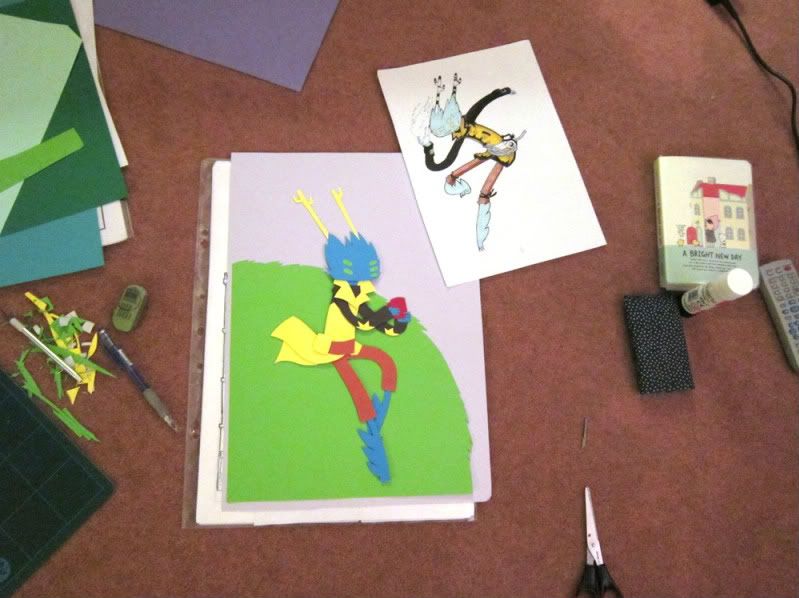 Phew, so i'm working on these but I'm also in the process of making a fan book with
Will
and
Lou
for Japan expo in France, doing a comic page and chapter page for
Dan and his awesome comic Vibe
, make new prints, make new business cards, It's all go really.